Maple Ridge is growing. And fast.
It was only a few years ago when the city reached a population of 80,000. The city is expected to expand by an additional 25,000 to 30,000 residents by 2050.
A significant portion of this population growth will be in the downtown area and along the Lougheed corridor where there are ongoing  proposals, construction projects and recently completed mid-rise multi-family units.
Multi-family unit development proposals (in red) near Maple Ridge downtown & along Lougheed corridor (Land Development Application Viewer)
Along with population growth naturally comes road traffic.
Maple Ridge is hemmed in between hills to the north and the Fraser River to the south. The geography is further complicated by the lack of east-west routes through the city. To travel from point A to point B, local traffic is funneled from neighborhood streets into collector lanes and finally into the few main arterials such as Lougheed Highway and Dewdney Trunk Road.
With the city – and the downtown area in particular – densifying, both the relative percentage and absolute amount of local traffic are almost certain to increase over the years. Add to that the ever increasing through regional east-west traffic, and it's clear that the issue of congested roadways is likely to worsen as the city continues to grow and become more dense.
For the City Council and planners who have a fairly clear view of the city's population trajectory, thanks to the visibility of all the development proposals before them, the immediate challenge is to devise a strategy to effectively decongest the city's roadways. Perpetually attempting to add an extra lane to our current east-west arterials is an expensive proposition and often implemented after the fact. Any traffic engineer also understands the phenomenon of 'induced traffic': adding lanes most often just leads to more car traffic, and congestion, within in a relatively short period.
So how do we decongest our roadways?
First we need to look at the traffic sources. There are three types of traffic:
Through traffic includes commercial traffic and commuter traffic from neighbouring communities to the east of Maple Ridge. The city has little to no control over this type of traffic flow.Case in point. A recent area plan by the city of Mission aims to turn Silverdale, an area of over 1,800 acres situated between Maple Ridge and Mission, into a complete community with separate neighbourhoods. The prospective homes envisioned in this area will target homebuyers who are struggling to find anything that is remotely affordable in the Metro Vancouver region. For those who are resigned to having to relocate to more distant areas and accept the 'drive-till-you-qualify' (qualify for a mortgage, that is) approach, these future homes will be conveniently positioned as "only an additional 10 minutes' from town".

Ask yourself where these drivers will commute daily to and from Metro Vancouver.
Sliverdale planned neighbourgood
Metro-Vancouver commuter traffic: As long as the city's population continues to grow, so will the commuter traffic, as a portion of the new residents will be commuters. Rapid transit helps solve some of the problem; however, commuters still need to reach the transit stops, most likely by driving.
Local traffic – This refers to traffic where both the sources and destinations are within the city. Examples include grocery shopping trips, school pickups and drop-offs, and medical appointments. According to the latest data presented at a 2021 workshop in preparation for the city's upcoming Strategic Transportation Plan, 68% of traffic starts and ends within Maple Ridge.
​Traffic pattern in Maple Ridge. 68% of traffic is local. (Transportation Advisory Committee Workshop)
Apart from pushing for rapid transit, which can take years to implement, a viable and scalable approach to  meaningfully take traffic off the road – and something within the city's control – is to cut down the number of local trips made by vehicles.
A logical way of doing so is by active transportation.
For residents residing in the downtown core, where amenities like shopping are in close proximity, walking would be a convenient and natural option. However, for distances longer than what most people would be willing to walk (400-600 meters one way), bicycles and mobility devices come into play. On a regular bike, most people can easily cover a distance of 5 km.
Why Drive Under 5?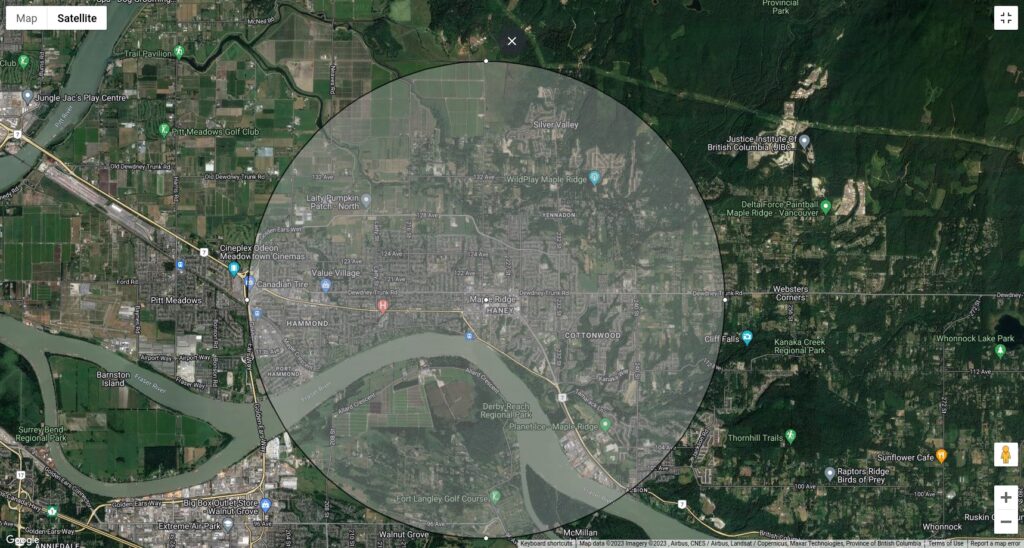 Area of Maple Ridge 5 km from downtown
Above is a map of Maple Ridge with a circle centered at Memorial Peace Park, the heart of downtown, and a 5 km radius. It is evident that this circle covers all major destinations and many neighborhoods within the city. The majority of individuals, who are reasonably fit but not necessarily Olympic athletes, would be able to undertake such a trip on a bicycle. With the assistance of an e-bike, most people can easily quadruple or more that travel distance.
So what is the single biggest impediment preventing people from making those short trips by bike instead of driving? Safety and perceived safety.
Until people feel that taking short trips by bike is convenient and safe, they will continue to rely on driving and contribute to the local traffic congestion.
Need a jug of milk? Hop in the car and go to the grocery 4 km down the road.
Junior going to soccer practice? Put him in the car and drive to the neighbourhood field 3 km from home.
As the city continues to grow and become more dense, the need to find solutions for alleviating traffic congestion becomes increasingly urgent. With the city currently developing its new Transportation Plan for the next 10 years, it is imperative upon the city's planners and politicians to explore alternative approaches to address this escalating challenge.
(Banner image credit: Richmond News)