HUB Cycling recently provided feedback on an application which was undergoing its second reading before the Maple Ridge Council. The application involves the development of three single-family lots on the west side of 232nd Street, just north of Cherrywood Drive.
This is only one small example of the work that the HUB Cycling Local Committee does in the Maple Ridge/Pitt Meadows area to help make cycling safer, more convenient and more pleasant for All Ages and Abilities.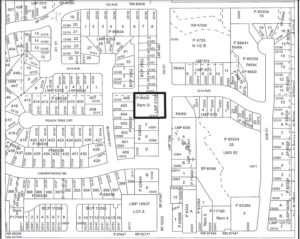 Development application along 232nd Street
As part of the application, the developer needs to provide a walkway on the north side of the site to provide pedestrian access to the rear lane which provides parking and vehicle access for residents.
The development application calls for the construction of a walkway on the north side of the site to provide pedestrian access to the rear lane for parking and vehicle access for residents. However, that section of 232nd Street is expected to be revamped as Abernethy gets extended from 232nd to 240th Street in a few years. As part of the Abernethy extension, either a multi-use path or a sidewalk and bike lane is planned to be added along 232nd Street.
In anticipation of this upcoming cycling infrastructure, HUB Cycling believes that the walkway on the north side of the proposed site should provide convenient access to people cycling, in addition to people walking. Currently, the proposal only mentions pedestrian access. HUB Cycling wants to ensure that the same access is made available to people who are cycling.
Furthermore, HUB Cycling has recommended against the use of maze gates, commonly installed in these types of walkways, as they can be difficult to navigate and make the pathways inaccessible for certain types of bikes (such as bikes with a baby trailer or cargo bikes) and people with mobility devices."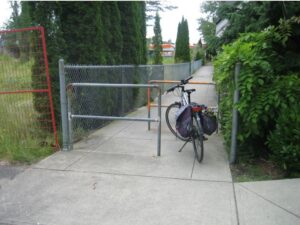 Maze gate
---
As part of our mission to promote better, more convenient, and most importantly, safe cycling experiences in Maple Ridge and Pitt Meadows, a significant portion of our efforts is dedicated to giving feedback to the city councils and their engineering departments on infrastructure projects, whether big or small.
We require more input and observations from people in and around the city. If you encounter any safety concerns or opportunities to enhance the cycling experience in Pitt Meadows and Maple Ridge, please send us a quick email at mapleridge-pittmeadows@bikehub.ca and inform us of the situation.
---
Below is our official feedback to the city.