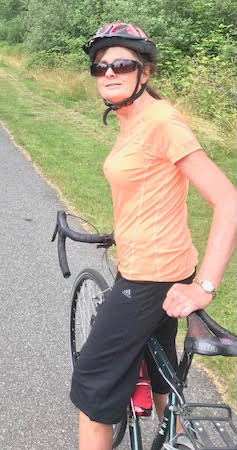 Sigrun is a keen member of HUB Cycling Maple Ridge/Pitt Meadows. The bicycle has been her main mode of transportation throughout her lifetime.
She can vividly remember the challenges of learning how to cycle and, by her own admission, she was a bit later than her peers in the progression from tricycle to bicycle. It was hard to learn to cycle on a bicycle that was much too big for her, and people laughing at her didn't help. Even then kids could be cruel with their comments but those comments, although upsetting, made her stronger and more determined to overcome her hesitation to move forward. Good on her for not having given up!
Moving forward is what Sigrun indeed did. From local rides to international cycling vacations, alone and with groups, Sigrun has also been a leader in organizing cycling trips all over the Metro Vancouver area and in Washington State. She loves to cycle and depends on her bicycle to get her places.
Now retired, Sigrun has used and continues to use her free time wisely. She mostly cycles from March to October and loves to stop along her routes to talk to other cyclists to promote cycling and recommend great cycling routes in the region.